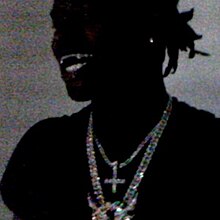 On October 13th, underground rapper and songwriter Ken Carson released his highly-anticipated album A Great Chaos. The album is comprised of 18 songs, is 48 minutes and 56 seconds long in total, and features other well-known rappers such as Lil Uzi Vert and Destroy Lonely.
Ken Carson is signed to famous rapper Playboi Carti's record label Opium as of 2019. This is Carson's third studio album and first mainstream album, following his 2022 album X and his 2021 album Project X. His single titled 'i need u' made its debut on Valentine's Day earlier this year, giving fans everywhere a glimpse of what to expect from the album. Despite having captivating instrumentals and catchy verses, the overall lyrics of the album are quite sad. Ken Carson sings about heartbreak, concealing his true feelings, and past tragedies.
Freshman and varsity soccer player Ryan Lopez states "It's the album of the year. Easily a ten out of ten." Lopez claims his favorite song in the collection is 'Fighting My Demons' and that it is his most streamed song on Spotify right now.
The album was number 11 on the US Billboard 200, and number four on US Top R&B/Hip-Hop Albums. A Great Chaos is Ken Carson's first US Top 20 album, but it's not only a hit in North America. The album is ranked number 4 in Australian Hitseekers Albums, and number 18 in Canadian Billboard Albums. On its release date, it received about 60 million streams by the end of last week.
Ken Carson also threw an album launch party on October 12th at the Silo dance club in Brooklyn, New York. Carson performed two songs from A Great Chaos alongside his Opium label mate and underground American rapper, Destroy Lonely. Founder of the record label and mainstream American rapper Playboi Carti also made a guest appearance to perform songs from his 2020 album, Whole Lotta Red, and his verse from "Fe!n" from Travis Scott's fourth studio album Utopia.
Initially, the album was only going to consist of 14 tracks. Due to majority of the album being leaked in a Discord server, the album was postponed to October 13th with a reformed track list comprised of 18 songs. Ken Carson has gone through his music being leaked all the time, but luckily he hasn't remained discouraged and continues to release an album almost annually since 2019.
Due to the success of his third studio album, Ken Carson has confirmed to go mainstream with his music from now on. Although some critics find his tone 'monotonous' and describe the vocal delivery as 'uninteresting,' others state that it's some of Carson's best work yet. More international fans are able to enjoy his music now that it's gone mainstream, even if it's region-locked by online music platforms. In conclusion, A Great Chaos had certainly made it's mark in the modern-day R&B and rap industry.