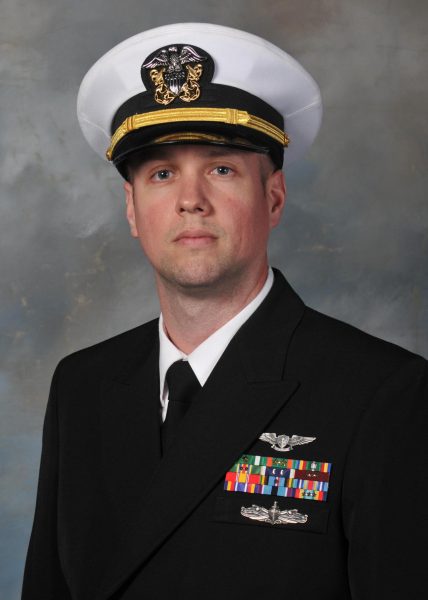 Signing up for any branch of the United States military is a significant commitment; this was no exception for a young Matthew McCauley joining the Navy. From the complete destruction of individualism in boot camp to the high-stress leadership responsibilities dictating the lives of fellow sailors, his life has certainly been one of dynamism, stress, character, and bravery.
Born in a small California town in the late 70's, McCauley's life was limited to the quaint, grassy hills and scarce friendships that his surroundings had to offer. With few opportunities around him, and a girlfriend he wished to marry, he ultimately decided to join the Navy in 1997, allured by the benefits and income potential.
"…I knew that the military provided a way to make a living, and had some great benefits that would provide for a family." McCauley said. "There wasn't a lot of really productive options at the time that was gonna result in any kind of great life choices."
His choice of branch can be attributed to the careful "convincing" of a navy recruiter.
"He showed up to my house in his dress white uniform, and he sold me the Navy." McCauley stated bluntly. "He told me all the right things, and I asked him a bunch of questions, some of which he didn't quite tell me the whole truth…"
The recruiter had successfully pitched his branch to the young McCauley, albeit with a tinge of deception. His family couldn't be prouder of his decision, and with his future laid before him McCauley began what would be a 23 year campaign in the United States Navy.
McCauley formulated a plan of action for the next few years of his life shortly after:
"The initial plan was to join the Navy for four years, get some life experience, get that steady paycheck, get the benefits that came with the military. And then, the plan was after four years to get out of the navy, and do something different. Specifically I had a goal of becoming a firefighter. Obviously that didn't work out."
His dream of being a firefighter had ultimately been extinguished by the increasing amount of benefits and money McCauley was receiving with each promotion. He and his wife decided to remain on the path of the military for the opportunities waiting in the near future.
From 1997 to 1998, McCauley filled the rank of E2, also known as an Aviation Boatswain's Mate. He soon began his first tasks aboard the USS Abraham Lincoln.
"…my first assignment was in the arresting gear. I did maintenance and operations on that."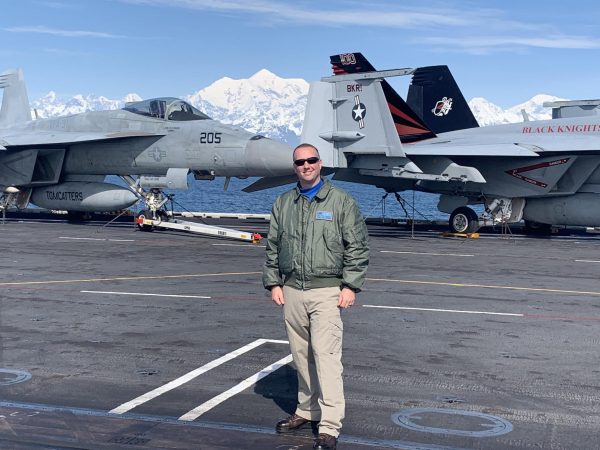 The arresting gear is the complex mechanism aboard aircraft carriers used to decelerate landing jets rapidly, in order to avoid them falling off the ship into the water.
McCauley was promoted steadily as he began work aboard the ship.
"Fifteen months I moved up two ranks, and then after that, in June of 2000, I became a Second-Class Petty Officer."
He steadfastly advanced through each level of the Navy and wasted no time for growth. At the time of his retirement, McCauley had achieved the title of Lieutenant, a full ten ranks above his starting position.
Naturally, in a job that carries people around the world, you will accrue many different experiences, stories, and thrills, many more than the average American would ever hope for.
"My first port ever in the navy was pretty memorable… it was Hong Kong." Said McCauley as he reminisced in his first look of the world outside of the United States. "I remember the morning that I walked out on the flight deck on the aircraft carrier and I was sitting in front of Hong Kong, and that was pretty wild."
Of course, as any veteran will tell, a career in the military is sure to include many unique traditions and rituals respective to each branch.
"When you cross the equator and the international date line at the same time, you become what's called a Golden Shellback, and there's this whole ceremony that you go through and… it's basically hazing."
Possibly the greatest highlight of his time aboard the USS Theodore Roosevelt was his experience during the filming of "Top Gun: Maverick", the sequel to the eighties action film "Top Gun".
"Yeah, I was able to be a big part of that. I was the flight deck officer on the USS Theodore Roosevelt during that time. Being the flight deck officer and all of the filming of the movie taking place on the flight deck. I was able to really interact with the film crew, the directors, Tom Cruise… I was able to have a couple one on one conversations with Tom Cruise, and that was pretty cool."
The mental struggles on an enormous, cold piece of floating steel, however, can be extreme. This is especially so for McCauley, who remained away from his family for months on end on long-term deployments.
"The hardest, hardest times are saying goodbye," he said.
At the end of his career, McCauley retired with 100% disability, gaining astounding benefits and grants from the United States Navy. After a full life as a conduit of the government's power, he reflects on his most cherished aspect of the military.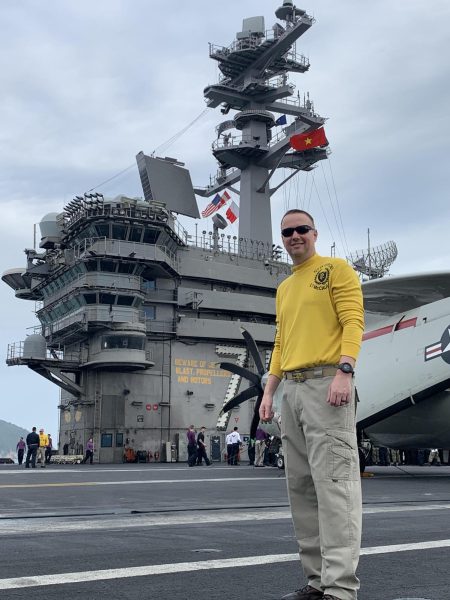 "The thing I loved the most was the opportunity to advance, and I feel like I took full advantage of that. I didn't stay stagnant in one paygrade for too long, I was always able to strive for the next opportunity, and that always came with a pay increase. Once I became an officer those pay increases became significant."
Despite the many unexpected turns of McCauley's career, he stands firm in his choices, and lives without regrets.
"When you talk about what-ifs, it's hard because im happy in my life now," said McCauley. "It took a lot of trials and hardships to get here, but if I were to go back and change anything, I might not be where I am today. I'd do it all over again to be where I'm at right now."
To capstone the career of a sailor, a father, and a friend, he left us with two words.
"Go Navy."