Sandra Lanigan was diagnosed with Breast Cancer in 2007. During this time, she was expecting her second great grandchild and didn't fully expect the news. The doctors at Kaiser Permanente that discovered her cancer determined it was having irregular growth patterns. Due to this, treatment was difficult and Lanigan had to undergo many surgeries to try to remove as much of the cancer as possible before other treatments. Her first surgery allowed for the biggest removal of the cancer growth.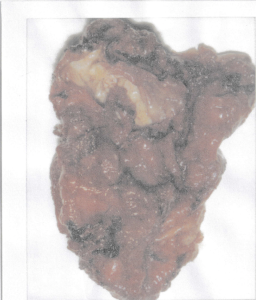 With 50% of Americans having or developing cancer in their lifetime, Sandra Lanigan believes that there are few things that she could have changed to better her chances of not developing Cancer.
"For me, it would have been healthier eating. You know, I am a junkie, I should eat healthier and should have done more than my yearly mammogram" Lanigan said about cancer prevention.
Sandra Langian has regrets on different things she would have done to ensure better health but has insight on what others should do that is different from her. She knows that if she was taught better or knew what to do at a young age, she should have better chances of not getting cancer. Her unusual treatment led her to have a different perspective on cancer. This treatment was years of pills that Sandra took to ensure that the cancer would be eliminated and stay gone.
"I had an excision of the breast, a breast reduction to remove the cancer, and a type of pill that was meant to kill the cancer," Lanigan said.
After the discovery of the irregular growth pattern of her cancer and the inaccessibility to remove all the cancer, Sandra Lanigan and her husband, Micheal Lanigan, had a tough decision to make. Micheal Langican shared that it was difficult on both of them as numerous cancer treatments offered different paths for Sandra and possibly the rest of her life.
"They offered her three options. They said she could do chemotherapy, she could do radiation, or she would take these pills. The chemotherapy gave her a 20% chance of the cancer not coming back, radiation gave a 5% chance of the cancer coming back," Micheal Lanigan said. "but the pills were the best option for the cancer not coming back. When she was deciding, I didn't want to tell her what she should do because I didn't want to be blamed if it came back.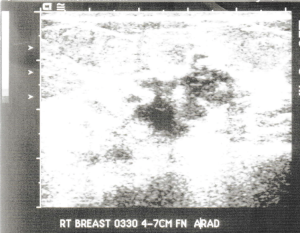 Although Sandra Lanigan had stage two Breast Cancer with rapid growth, she was not as worried as she thought she would be. Sandra Lanigan almost expected to get Breast Cancer in her life due to her mother and grandmother also developing this genetically. Due to this, Sandra Lanigan's advice reflected her own views of cancer in her situation as well, giving for a more positive and care-free perspective. Her perspective was different and she would never want others to be scared or worried.
"I would smile and tell everyone that 'you're going to make it through it,' " Sandra Lanigan said.
Sandra Lanigan thought there were many things the people could do. She recalls most of her life not taking care of herself in the way that she should have and it hurt her in the long run. According to her, people should eat healthy and do personal checks.
"To me, the most important thing is to always get your check ups and listen to what the doctor has to say." Sandra Lanigan.
Throughout treatment, Sandra Lanigan wasn't very worried as she was always accompanied by her husband and grandchildren. She knew treatment and surgeries were difficult but having her family there meant everything for her. Without her family, the process, she thinks, would have been much more difficult and she owes her calm mentality to her close family and friends. To her, her husband being there for her means more and counteracts the negative aspects of her treatment.
"I guess the best part was that Grandpa was always there and that I wasn't ever alone. You need a support group to be there for you" Sandra said.
Death was never a big factor in Sandra's life.
"I am not afraid of dying because I know I am going to heaven and in working in surgery, I knew what was going to happen to me."