Is the Santa Rosa dress code too strict?
For most schools, dress codes are in place to simply regulate what students can and cannot wear on school grounds on a daily basis. They are often implemented with the goal of promoting safety and discipline. However, some Santa Rosa Academy Students argue that our school dress codes are too strict and need some revisions.
To put it simply, I am arguing that our school dress codes are outdated because they do not reflect the diversity and individuality of most modern students and faculty. Some critics might argue that I am supposing getting rid of the school dress code entirely — I am not, I am arguing making changes to an outdated, and in some aspects repressive, dress code that limits student expression.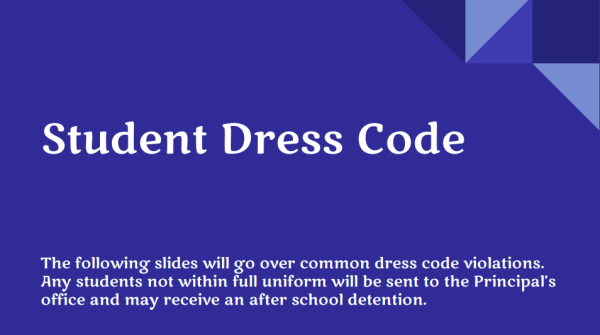 Most dress codes impose rigid and conservative standards of appearance and dress that stifle student self-expression. It can be said that the SRA dress code stifles student self-expression in certain aspects by restricting certain clothing and appearance choices. Most of these choices such as hair, nails, shoes, and outerwear do not affect the integrity of the school as a whole, nor do they alter the learning environment for students on a tangible level.
For example, simple alternate styles of hair particularly for men. The current standard of men's hair in the handbook is as follows: "Neat, clean hair off the collar and out of the eyes. Ponytails or buns are not permitted." Realistically, in today's modern society as long as hair is not a distraction for faculty and students why should we tell our male students what hair style is permitted? This rule is contradictory and redundant in today's society as a whole and does not serve a purpose in Santa Rosa Academy as many men are allowed to have buns, ponytails and long hair in most modern workplaces and colleges according to the Bill Choisser, a self proclaimed expert on long hair: "data estimates that 2–3% of US men have long hair, and an additional 2% have borderline long hair, leaving 95–96% with short hair." The percentage of men with long hair below the collar is minuscule compared to the rest of adult-aged males in the workplace.
Another major area of contention when it comes to the dress code is the shoe portion of the dress code. For example, shoes with brown soles are not allowed which is a rule that is difficult to enforce consistently and does not disrupt the learning environment… so why have it? Same with ankle-high shoes or Doc Martens, which are currently banned in the school dress code. This rule does not make sense, as ROTC students are allowed to wear the same style or a combat boot. This is nonsensical as Doc Martens has always been based on a 1940's military boot which was originally black. Where is the logic? They are both military boots and will be able to come in either navy or black colors, so there is no reason that this conflicts with the dress code.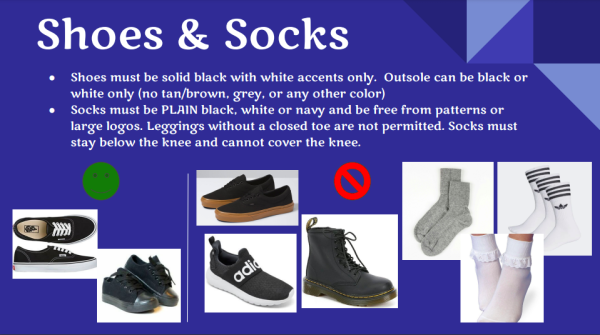 It can be argued that school dress codes are ineffective because they do not improve the learning environment or outcomes of students. They often create more problems than they solve, such as conflicts, distractions, and costs. Some of these conflicts arise from the tucking-in shirt rule as actually enforcing this rule is a nightmare for school faculty. This rule is not enforceable for staffers on a daily basis routinely devolving into shouting matches and getting students sent up to the office. This does not improve the student learning environment in any way shape or form and, actually, hinders it.
Such as the school's policy on nail polish particularly for male students. These rules enforce norms of modesty. For example, male students not being allowed to wear nail polish. Yes, I agree some forms of nail polish, such as glitter, are improper for school. However, males are not being allowed to wear basic forms of nail polish. The rule does not make sense nor fit our modern society.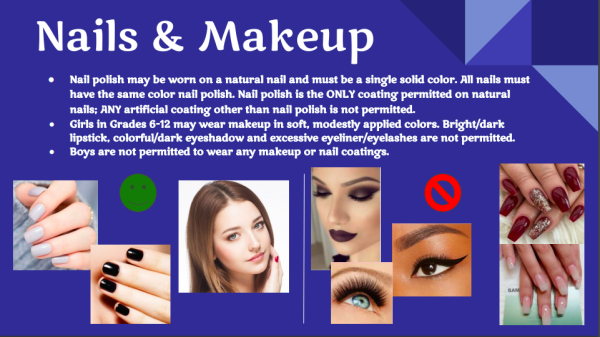 A problem I see with outwear is that students are not allowed to wear Class of 2023 attire. (note: last year's seniors were able to purchase a white jacket to show pride for their graduation class during the new school year some current students got their hands on the aforementioned jacket and were subsequently told during announcements that they were not allowed to wear the jackets.) Is this due to the fact the jackets were white? Where is the consistency? The jackets are Santa Rosa approved and handed out by the school to support the graduating class of that year. While students that have jackets from other graduating classes are still allowed to wear them, how does this make sense?
Another major problem with the student dress code is the cost and availability of the required SRA uniforms. The dress code states on nearly every slide that all SRA wear must be purchased by SRA approved vendors. This brings up the question of pricing as an average white medium men's shirt costs $33 and the brown small shirt costs $30 on the Dennis website. I understand the reasoning for this as SRA wants an image of cleanliness and a standard of dress for students. I understand that schools have to use a reliable provider for uniforms, but what about the families that cannot afford them? What about objects that don't have to have the school logo on them. For example, shorts that don't need to be Dennis and could be bought for cheaper while still being in the dress code. The Santa Rosa School-issued pair of shorts cost $29 while an almost identical pair from Target costs $12.25.
The dress does not consider that some families may not be economically able to afford these steep prices, especially with multiple children or as students age needing to get bigger constantly buying clothes especially since the closest available store is in San Diego. Traveling to San Diego for school wear is a hassle but is expected by the school when the student is enrolled in SRA. There are more budget-friendly clothing options out there and the dress code does not take into consideration how the pricing and use of only a single vendor can strain a already marginalized group of students.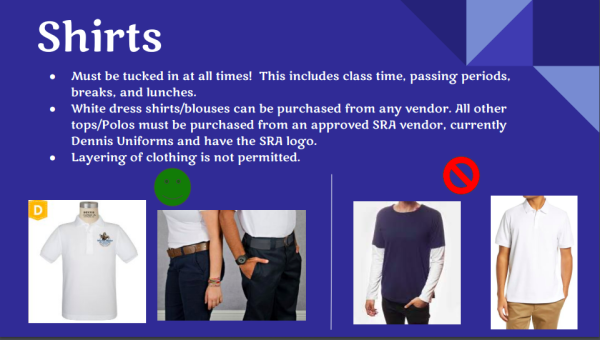 An Article by Education Week relating to marginalized groups of students and dress codes found school dress codes are not equitable in many respects. The study found, on average, districts that enforce them strictly also predominantly enroll already marginalized students of color. These findings in conjunction with districts clashing with parents, students, and civil rights advocates over disciplinary procedures used to regulate used to currently regulate student dress codes.
Another point made by the article shows that 44% of districts with dress codes ban hair wraps nationwide. Some school dress codes specifically name durags, which are primarily African Americans for protecting curls. The report continually cites dress codes with rules specific to natural or textured hair, which as discussed disproportionately affect Black students.
Schools that are predominantly students of color are reported "more likely to enforce strict dress codes" according to the released data by the U.S. government accountability office. Schools are also quoted as reportedly more likely to "remove students from class for violating these dress code rules." This is particularly an area of concern as 81% of predominantly Black schools and nearly 63% of predominantly Hispanic schools enforce a strict dress code. Only 35% of predominantly white schools enforce a strict dress code. Showing an interesting trend between race and the enforcement of dress code.
Luke Hamilton, varsity football and baseball player, shared I his thoughts on the dress code saying: "I feel the dress code is repressive not allowing students to have full self-expression in the garments they allow us to wear." A singular student can often represent a larger student body outcry about the student dress code as there are major contradictions in the dress code as a whole.
Some critics might say that the dress code is needed. To clarify, I fully support having a dress code. I simply disagree with some of the outdated rules. Some might say all these rules are needed as the school is teaching us to be proper and professional to help us get a job by dressing appropriately. However, in today's society, these strict rules are no longer adhered to.
I believe there are innate biases to the dress code but the dress code is a positive force for good and is in need of impactful changes. Most of the rules are no longer relevant and are outdated. Overall, the dress code helps students build positive habits such as uniform which sends the message that, as a student, you care about one's appearance and how you look outwardly to the world. The dress code can also negate bullying. 
Overall, the goal is not to get rid of the dress code. Rather, the goal is to make the dress code equal and fair for everyone while also removing the aforementioned outdated rules to make the dress code something to be proud of, not angry with due to outdated rules.