The private University of Southern California has always been an extremely successful and prestigious school. Recently, however, their athletics department has been shining more than ever.
With a new wave of All-American athletes and the best pick of transfers, 2023 seems like the year for Trojans Athletics. The women's beach volleyball team has secured their third national championship in a row, adding another trophy to the University's plethora of gold.
USC excels in everything, especially sports, and 2023 is proving it to be true. The women's volleyball team is sweeping every team they play and confirming suspicions that they just might win the national championship as many other USC teams have recently.
USC has also had a spike in popularity as a new commit shook up the basketball world — Bronny James, LeBron James' son, committed to USC and has brought even more attention to the athletic world of the university. Most student-athletes that join USC, end their college career with success by continuing professionally and even going to the Olympics.
There have been many more additions to the athletic department that are unrelated to athletic performance, but rather an upgrade to the facilities to match the success. The president of the University, Carol Folt, released a new athletic plan and statement: "Every day our exceptional, hard-working student athletes come here to pursue their dreams." Folt said, "We want to provide the facilities and support for those dreams to come true."
Folt was steadfast in her decision when she announced new facility changes. Quickly after her statement, she announced the details of the many changes to the athletic programs facilities: the football program received a new three-level performance center, decked out with several rooms.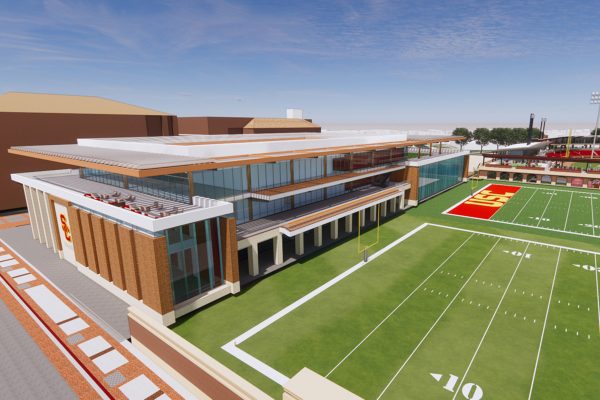 The new facility changes also include: enhancements to "Dedeaux Field" (also known as the baseball stadium), an upgrade to the already luxurious living life of student-athletes, an all new "Trojan Enrichment Program", enhanced golf facility, upgrades to the galen center, athletic medicine upgrades, and much more. The Trojan's already have amazing programs and the best athletes, but this year they are going above and beyond in every way.
USC is making 2023 their year.