On the campus of Santa Rosa Academy, there is a high school senior whose presence seems to radiate with determination and ambition. Unbeknownst to his fellow students, this remarkable individual's identity is none other than Ryan Galvan.
With a passion for both academics and athletics, Galvan represents the epitome of a student-athlete. Galvan's days are filled not only with grueling wrestling practices but also with the harmonious melodies he creates while practicing piano. Beyond his personal pursuits, he is dedicated to improving himself mentally and physically, constantly seeking knowledge and personal growth.
"The first time I saw him wrestle, I thought he really didn't care to be here, that same time next year I thought the hard work paid off"- Braiden Dospita, a teammate and witness to Galvan's journey.
Galvan used wrestling as a means of improving his mental health and getting out of a rut. He discovered a way to overcome developing depression and find purpose through wrestling. The difficulties he encountered on the mat served as a springboard for his own growth and self-discovery. Beyond the wrestling mat, Galvan is committed and persistent. He has made it a priority as a senior to wrestle well and graduate from high school. He maintains self-control and does not put up with distractions because he is laser focused on these objectives. Galvan's dedication to his priorities helps him not only perform well in school and on the mat but also keep a positive outlook.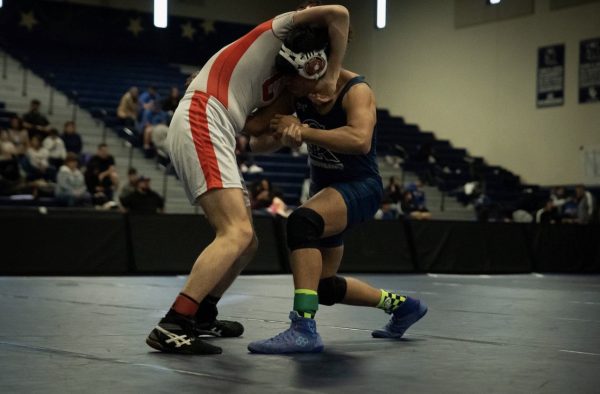 When a senior from CSDR attempted to put Ryan Galvan in a headlock during their match in his junior year, Galvan made the instinctive decision to duck under his opponent to break free.
When asked about his goals for the future Galvan said he wanted to go to college and become a stockbroker. He envisions a financially stable lifestyle that enables him to have a positive influence on the world. Galvan draws motivation from the lives of Mike Tyson and David Goggins in his ongoing quest for physical and mental Improvement. He is inspired by their mental and physical fortitude, and they serve as a constant reminder to push himself past his limits.
Galvan has skills outside of the rest circling mat at the age of four, he fell in love with the piano and has been perfecting his technique ever since. "All my stuff is based on emotion, so like, I want to invoke a feeling when I play or imagine a story when I play," Galvan explained when asked about composing his own music. His melodies, which reflect his emotions in his compositions, enable him to connect with his listeners and tell tales through his music.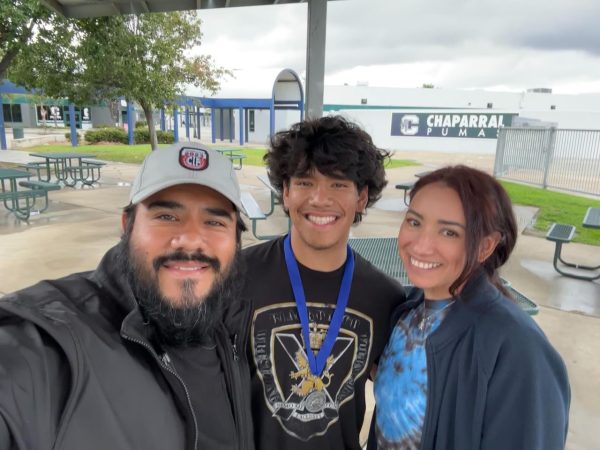 Galvan likes to play Fortnite, a well-known video game, and spend time with his piano when he's not in class or wrestling. His interests give him a way to unwind and have fun while recharging his body and mind. Galvan's life hasn't, however, always been easy. He faced significant difficulties in adjusting to American society after leaving Japan. he gained the strength and courage to overcome his obstacles and adapt to his new surroundings with the help of his family.
Galvan had both victory and failure this past year. For him, winning the southern League Championship was a big victory because it was the result of all his effort and commitment. He also suffered a setback at CIF, a setback that served as a teaching moment and inspired him to aim for even higher goals for this year's wrestling season.
"In their prime, they are both strong physically and their mentality and they inspire me to always push myself past 100%," Galvan said, reflecting on how the lives of Mike Tyson and David Goggins inspire him. Galvan, while in his junior year, stands on the podium after taking first place in the Southern League Championships.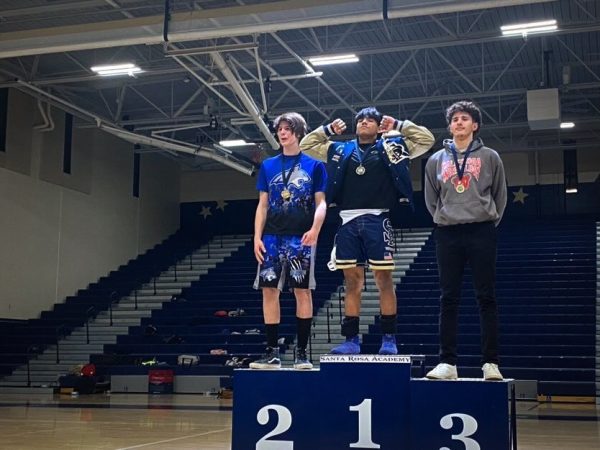 "Ryan is one of the hardest working student athletes that I have seen within my 20+ years of coaching. He never takes a day off and leads by example. He is always working hard to make sure he is at the top of his game. As fine a student athlete he is, he is even a finer young man. He displays a great attitude in the classroom. The same work ethic that has made him such a great student athlete has also made him a strong student." Head Varsity Wrestling Coach, Julio Rodriguez, on his perspective on Ryan's progress as both a student athlete and a person.