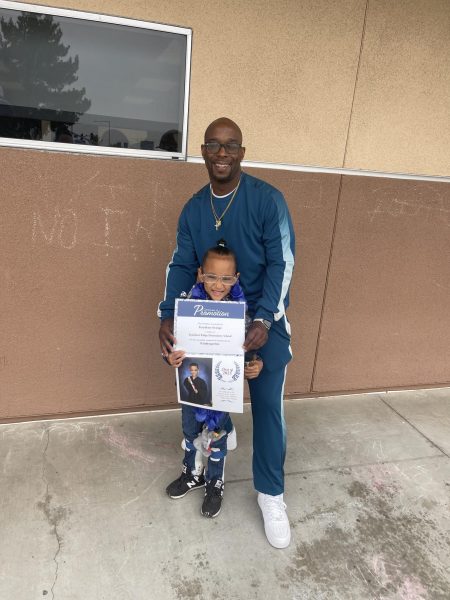 High School is a unique adventure for every individual who takes on a particular tone of color at Santa Rosa Academy. Coach Derris Orange, more commonly known by the students and faculty, Coach Orange, a loved-by-all head of security at Santa Rosa Academy not only helps keep the school safe but also offers a unique perspective on the academy itself.
After working at Santa Rosa Academy for three years, to just recently being promoted to Head of Security, Derris Orange has seen, heard, and learned many things throughout his time at SRA. From the new students bringing their unique characteristics to having a new administrator every year. The ever-changing student body and those who had trouble fitting in are now finding their place at SRA. He's seen the laughter of kindergarten students with their infectious smiles in the morning, the middle schoolers trying to find their place, and the high schoolers who aspire to make their mark on the world. A place where young minds are shaped and potential is nourished, and where Coach Orange found a sense of purpose that goes far beyond the typical responsibilities of a head of security.
Yet, amidst the vibrant life of a student, there's the ever-present and dreadful acknowledgment of SRA's rules — to many students at SRA, they are labeled as "unnecessary" and "unreasonable.". However, Coach Orange offers a different perspective. He, along with many other staff members at SRA, believe these rules to be essential and, while he might not personally agree with every rule, he understands that they are a part of his job to enforce.
"I might not agree with some things but it's a school rule," Coach Orange explained, his eyes reflecting a sense of duty, "it's my job to enforce it, and I have to do it even if I don't like them, I still enforce them."
In Coach Orange's firm belief, these rules are the strong pillars holding the school together, maintaining a sense of structure and order, that prevent it from descending into what he humorously referred to as "a giant middle school."
"It keeps structure and order; without structure and order we'll be a giant middle school." Coach Orange said, emphasizing the importance of the rules.
But it's not just the rules that set Santa Rosa Academy apart. Orange believes strongly that it's the students that make this school extraordinary. From the excited kindergarteners who greet him in the morning to the high school students who had a genuine desire to make a positive mark on this world–these students form the heart and soul of SRA.
"They keep coming you back", said Coach Orange with a warm smile on his face. "Even if I have bad days, I have the elementary kids, the kindergartners saying, 'Hey Coach Orange!' and you high school kids are great kids. We have students who genuinely want to do good in life, so I like it here. It's a great vibe."
While Coach Orange acknowledges the importance of the rules, he is equally passionate about the spirit that envelops Santa Rosa Academy. He believes in the balance between structure and the vibrant energy that courses through the school.
"There's going to be rules," he acknowledges, "there's going to be 'you can't do this, or you can't do that' but if we make the best of all and we all get on the same page and work together just to get through the day, we'll have a great time here and realize laughter is key."
In Coach Orange's eyes, Santa Rosa Academy is a place more than just education, it's a place where laughter and rules coexist, where students shape their own paths, and a place where he plays a pivotal role in maintaining the balance. His journey through the changing tides of high school life, both high and low, highlighted the importance of structure, the importance of unity, and the bond between him and the students who make Santa Rosa Academy an exceptional place of growth and laughter.
With Coach Orange as a preserver of both rules and laughter, Santa Rosa Academy continues to thrive as a place where education is more than just books
–it is a journey of joy, growth, and community.