Around a month and a half before the Varsity Wrestling Season starts the Captain of the Wrestling team Dryden Strauser prepares for the season. The title of team captain is not an easy Job immense pressure comes from coaches and teammates alike to perform and defend the Santa Rosa Academy League title for a 5th year in a row.
The Ranger Wrestling team is currently undefeated locking down the boy's league title for the past five years. The role of captain comes with hardship and grit, many sleepless night's but also some of the biggest highs a high schooler can experience in any given sport the feeling of leading a team and being a captain is a otherworldly feeling with responsibilities and challenges like no other.
But Who is Dryden Strauser? To give some insight into Strauser's upbringing. Strauser was brought up playing different sports such as soccer, taekwondo, and now wrestling. With his plethora of sports experience behind he uses it to help him lead the Santa Rosa Wrestling and contend with his responsibilities as a leader but what are some of the responsibilities and challenges a Varsity Wrestling Captain faces?
As a varsity wrestler and Captain some of Strauser's responsibilities are cleaning up after practices and making sure proper team rules are followed. Enforcing rules on teammates and continually leading his team by example daily. One can always find Strauser before and after practice helping out and picking up. Whether it's teaching a teammate a move or speaking with coaches Dryden Strauser is always there.
When asked head coach of the Ranger Wrestling team Julio Rodriguez had this to say about Strauser, "Strauser is a hard worker he's invaluable to this team he puts his head down and gets the job done, he's a great leader". Strauser has helped create and maintain a winning wrestling team as the last five years in a row the Ranger Wrestling team has won the league and continually made CIF.
When asked about his leadership abilities, Strauser had this to say: as captain, Strauser communicated his role of team captain is "not all as cracked up as you would think" saying it's reportedly "underwhelming" in a sense. "I'm very happy for the position I'm in, for the glory that everyone thinks comes with being captain like oh he's so good oh he's so cool, it isn't like that, It's just I get power to make sure things are in the shape they need to be but aside from that it's just business as usual."
He communicated the fact that his position of being team captain is more important than the glory for him. The enjoyment he gets from being a team captain is more in making sure things get done on time in the correct way they are supposed to. When asked if he enjoys the position that he's built for himself he had this to say "I do enjoy my position I do."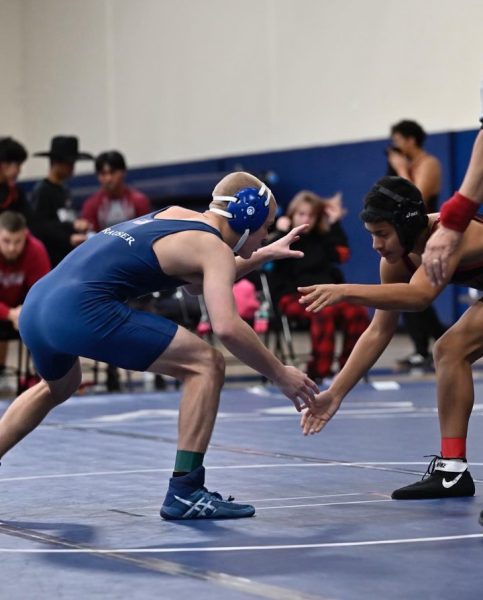 Later when inquired about handling things responsibilities both on and off the mat, the captain said, "The only way it is, is that the tournaments are spaced enough to where I don't have to worry about juggling through them."
The wrestling tournaments are not a major worry for because they are both during season and off season are spaced out to the point where it is a non-factor. Strauser communicated that managing school is "managing work and school I kind of put more priority into my wrestling then school work which for my senior year."
He is fervent in the belief that his schedule in a way had been "equalized" in a way due to his lack of classes his senior year due to his seniority his schedule being minimized. He stated, "It's not something I have to juggle with it's more something I just do on a day-to-day basis."
When asked about preparing for tournaments, the former league champion said, "I diet I like listening to the loudest and heaviest music I can find on repeat and just walking back and forth acting out what I'm doing going to do in my wrestling matches just overall filling myself with energy". Strauser's approach consists of him taking an all or nothing approach to his matches and tournaments even to the point where quote "To the point where outside people think I'm hurting myself." Strauser takes his preparation to the next level having a motor that never quit's continually being described as an anchor for his team.
Strauser handles adversity the team captain communicated that the only way he has very dealt with adversity throughout his life has been by "sucking it up" commenting that can not describe it any other way. He says the way he copes with stress and anxiety is by giving things time and not thinking about allowing himself to heal and grow at his own pace. When asked about being humble, Strauser says that he has to recognize that there is always and will always be someone better and that others has to recognize that fact. While at the same time giving yourself time to grow and progress naturally while not being too hard on yourself. Strauser's approach differs as he communicated a message of less self humilty and naturally being humbled while still growing and learning stating, "I don't have to keep myself humble more so the fact that I have to recognize that someone is better than me."
He later spoke about there being two ways that a wrestler can humble oneself and handle adversity. He says, "there are one of two ways you can approach this you can either sell yourself into being the best and inevitably being humbled." The other option, according to Strauser is more about finding a good balance in life and making sure to understand that inevitably he will be beaten and that the feeling of loss is human — it is important to managing those emotions.
Strauser relayed this message: "You can have a good life and do very good what you do until you find someone else who has just devoted their entire life and nothing else to that very thing and nothing else to that very thing and have a good bout and take what you can from that loss and use it in the next situation." When asked about his goals, he said he would like to get the gold presidential award as since elementary school it has been a goal of his to earn the award again.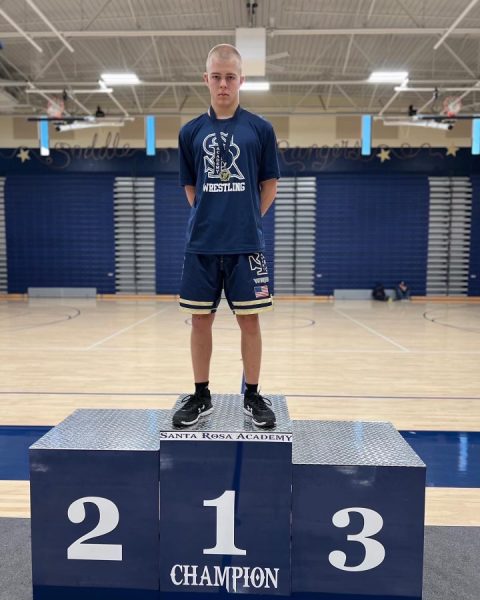 In terms of wrestling for his senior year, his goal is 100 career pins saying that 100 pins is something that he has always wanted to achieve and is continually working towards.
When asked about his future, Strauser said he would prefer to become a teacher one day if possible. He wants to help others and become a role model for the youth. He has always been helpful to others by having patience, empathy, and understanding for people in general. Strauser hopes that, not matter where life takes him, he ends up somewhere positive.