Evelyn Santiago, an alias for a student at SRA, processes the pressures of life through a procedure called masking. While many may also practice "masking", few can define the term as a coping mechanism. Masking in actuality, is the act of hiding a feeling, trait, or experience from friends or family. It's a common strategy among those who go through the harsh realities of life. People "mask" for different reasons and for different contexts. For Santiago specifically, masking is a process she uses to help move on from her past as well as a way that she can care for herself.
What makes masking overwhelming?
"It's like carrying a burden. You carry this thing on your back every single day, every single second of your life. Basically not really creating true friends because you can't trust them with your true emotions."
A Lonely Life
Miss Santiago is an introverted person. She doesn't interact with many outside those close to her. When she is comfortable and around people she cares about, she is a friendly, silly, and optimistic person. She reports that she has almost always been this way.
"Basically I had no friends for forever. I moved from my old school into Red Track, then into Covid with no friends. And I was happy like that, I mean Covid was like a joy-ride. I didn't have to communicate with anyone."
The life she lives is something that she is comfortable with, however humans are innately social and some parts of her crave human connection just as much as anyone. Santiago wasn't exactly lonely, but did want to have people who she could call friends. So, in middle school, she decided to reach out.
Experiences with Loveless Relationships:

Before meeting her current friend group, Santiago didn't know much about healthy relationship dynamics. She doesn't like dealing with things she isn't comfortable with and doesn't like confrontation. It is part of the reason why she masks. Confrontation reminds her of a time she felt like she didn't matter.
"There was this amazing person Misha (Misha Spencers, Santiago's ex partner and student of SRA). They were a hero to me. Misha was the only good person to me. I had Beth (Bethany Mason, the friend who stayed through it all), but I would overthink my friendships so I couldn't tell who was there for me or was there because I was there [for them]." By this point,  Santiago had this uncertainty with the people she called her friends. She had issues with masking and venting to the wrong people. Part of that was a reason as to why her friendships fell apart.
"I didn't want to vent to Beth, so I vented to other people that I should not have. I was an inconsistent venter and I really regret that because it made them uncomfortable. I felt toxic."
Even with Spencers though how good she felt to Santiago, the undeniable truth is that Santiago didn't feel comfortable in dealing with Spencer's problems and unhealthy ways of living. Though it was hard, Santiago knew that she couldn't deal with both of their problems.
"I broke up with my ex and thought they would be a healthier friend to be with, which wasn't the case. Fast forward [Misha] would kind of flirt with me inconsistently and it confused me. Fast forward [again], My depression got very bad at the time and there was no one there for me."
Though she still had people she called friends around, Santiago found it hard to keep her friendships going as the people she cared about didn't care for her like she did for them. In a moment of desperation, she found herself thinking like the people in her friend group. Their shared unhealthy coping mechanisms suddenly became hers. Soon she shared more than just their coping mechanisms, but their dangerous habits as well.
"Basically we would talk a lot about that [bad habits] and I kind of just picked it up because I thought: Oh that's a friend thing they do! Maybe if I do it too I'll be more like them and feel welcomed."
There were tensions brewing from the start with how these friendships were handled. It is no surprise that Santiago had enough. "Someone invited [Misha] to the group chat. I was not comfortable with them at the time and I needed time to adjust to everything. It triggered something in me and I exploded in the channel. I just wasn't comfortable, but I lost everyone." By this point, Santiago had no one in her life left that supported her. She was alone.
Reflecting and Moving on

After Santiago left her old friend group, things were initially incredibly difficult for her. She still kept the habits her old friends instilled on her and even worse, she dealt with them alone. However, she did manage to pull herself out of the situation she was in with the help of people who she knows genuinely care about her. It all started with her parents.
Did your parents know about what you went through?
"Yeah my parents got a call and they were kind of disappointed in me. They cried that night apparently and my brother was concerned." The night in question, Santiago was escorted to a medical facility where she was under the care of physicians who deemed her to be sick. Santiago spent one night there while her parents figured out what they could do. When she returned home, she was greeted with open arms and care beyond measure.
"They were crying. My mom was crying and I was crying." The support she got that day was something Santiago needed. Her parents were the first people who would give her that kind of kindness, though thankfully for Santiago, they weren't the last. The two were inseparable during the classes they had together and for a while became mutual crutches for one another to lean on when things were bad. More and more people came into Santiago's life and she wasn't alone anymore.
Important Memories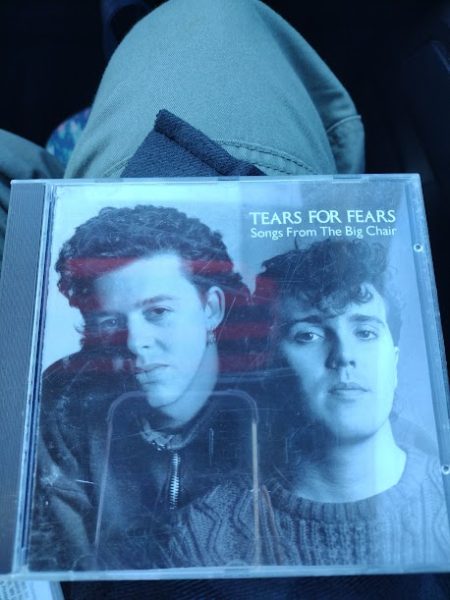 "So basically during that dark time in life I basically relied on music to get me through the day, it really helped soothe my emotions and distract me, Tears For Fears is my favorite artist and the music fills me with passion that was missing in my life."
While Support helped Santiago get to the point of where she is, it can be argued that her hobbies were equally important to the way that she healed. During her period of isolation, music art, and just appreciating the good things in life like food or stuffed animals were ways that she coped.
It is truly amazing how someone can grow and thrive when they have the right things in their life. Santiago realizes that there was no way to go back to the way she used to be. Her experiences were irreversible. However, slowly despite everything, Santiago made something out of herself that was better than what she had before. Through it all, she turned her life into something beautiful and inspiring. She now has supportive loved ones, loving relationships, and fun as a student. Evelyn Santiago lives and thrives.