The experience of playing football is quite a unique one as it not only requires a high level of physical toughness, but mental as well, as one must execute with precision under a great deal of pressure. Holden Weber, a three year player at SRA made school history by being the first to make all CIF for Football at SRA. Weber achieved this during the 2021-2022 season, his season as a senior. Weber saw that football left something that went beyond his high school years, which was the gift of a hardened mindset.
Weber put in countless hours towards the weight room and practice, both on and off of the field. Weber looked up to Head Coach, Perry Jones, as Weber himself saw the great number of hours that Coach Jones spent developing the program "behind the scenes" as he spends a great deal of time outside of school as well when it comes to football, closely analyzing film for hours, watching his players, as well as watching opponent scout film. Though, this is just a small preview of the amount of work Coach Jones puts into the program on a daily basis.
"In the beginning, I didn't have a good mindset. That was something that I had to grow and learn to create. It took a lot of work to get to appreciating the process of the weight room and practice," said Weber.
Weber knew he wanted success for the team and himself from his freshman year, though his mindset through his early years was not ideal. As his years went on, Weber learned that these hours of struggling in the weight room and on the field were essential to him progressing as a player, and he started to appreciate these hours that were granted to him to improve himself not only as a player but overall as a person. Weber took advantage of this opportunity and used it to his benefit, as he had a goal, a goal to win each and every single day, putting in as much effort as possible every single day, hoping to improve upon something. Weber was SRA's left tackle on the offensive line, at around 6'1" and 230 pounds. At the time, Weber was SRA's strongest offensive lineman, holding the schoolwide record for his max benchpress, in his weight class. Weber was proud of his achievement, being the first to make all CIF, though, he was also a senior, and felt as if there is something different he could have done in terms of leading the team amongst the other seniors against Maranatha.
"At the same time, it still felt bittersweet. I achieved all-cif, but my team still lost in the first round of the cif southern section playoffs. It made me reflect on how I did everything I could for myself, but failed to bring the team up to the standard of my individual success." Weber said.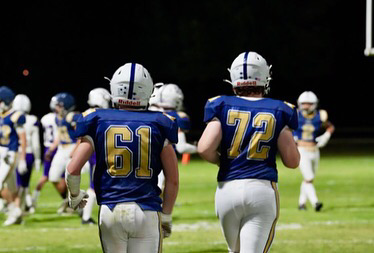 During the 2022-2023 season, SRA went undefeated for a majority of the season, until SRA lost to the Maranantha Minutemen for a league game, as well as a rematch during the first CIF Southern Section playoff game. While Weber is proud that he has been recognized for all the hard work he put in by CIF, he also felt the pain of the team losing their first playoff game. SRA's defense was unable to hold back Maranatha's offense, causing Maranatha to continue to score points against SRA, not allowing SRA's offense to score points fast enough. With this bringing an end to Weber's last season, he decided to help coach the younger players during the off season in the spring as well as the summer.
"I was inspired to help out during the summer because of my love for the game. In my opinion, there is nothing better than football," said Weber.
Weber had a goal in mind, and that was to help out the younger players improve upon their technique and fundamentals, as Weber knew that the same opponents, mainly the Maranatha Minutemen were going to come back around next year.
"Unlike any other sport, it takes a mental and physical toll on your body. It takes both brain and braun to achieve success. I also wanted to help the people younger than me achieve success," stated Weber.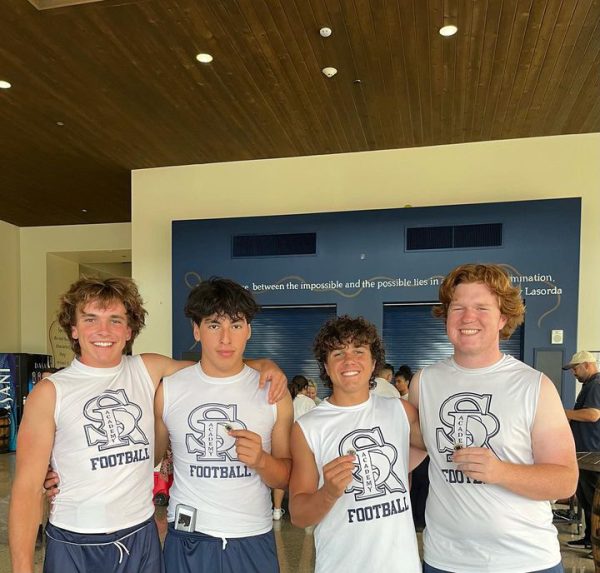 Weber spent most of his time during the summer helping out Offensive and Defensive Line Coach, Rich Quesada. Weber worked alongside Coach Quesada to help him in coaching the offensive and defensive line in terms of refining technique, perfecting the fundamentals, and continuing to build strength. Weber coached during the entire summer before he left for college in August. Weber continues to apply this new perspective from football, anytime things get tough in life.
"Football put everything in a whole different perspective. While playing football my senior year, I learned not to give up. I used to struggle with that until I learned that I would be much better off if I just kept on chugging along. Now, I apply that philosophy to every tough situation in my life," stated Weber.
Weber is currently pursuing an Engineering degree, and that itself is no easy task. But, even with the stress and workload presented from taking such challenging courses, Weber continues to put in as much effort as possible and continues to pull through, as this is the mindset that football has gifted him.
"Football made me put things in a new perspective. It gave me grit. Football gave me a person of strong will. A person of integrity," Weber stated.