When students are not doing homework for school, they usually enjoy doing hobbies or sports. A ninth grade Santa Rosa Academy student, Yahaira Perez enjoys doing art and spends a lot of her free time doing it. Art is an area that Perez hopes to continue to get better at and even in the future.
One of the great things about art as a hobby is that there are so many different areas to explore and improve as an artist. Currently, the artistic area Perez explores using pencil as a medium to create her drawings. Perez enjoys this medium because she feels the most comfortable with it and is the best at it. She believes drawing with pencil is one of the foundations of art. It helps develop more skills because you can start with a pencil drawing then use pens, then add color, watercolor, or paint onto it. She's been drawing since she was around eight-years-old, and has been improving her art since.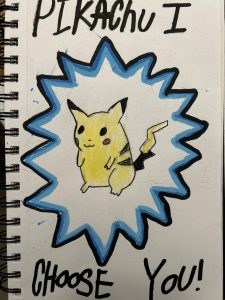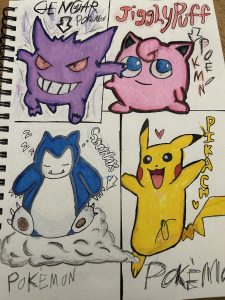 Perez explains her passion for art in this way, "Art to me is enjoyable because it relieves my stress. I enjoy art because it's so fun to draw and express yourself through drawing."
Perez started drawing because of her inspiration. She is inspired by her family and the movies she watches. She watches a lot of Disney and anime movies. Other than those, she's watched a movie called "The Pursuit of Happiness" which inspires her to not give up. Perez also gets inspired by all of the things around her.
When asked, "What inspires your work?" Perez knew right away what the answer was. She had responded, "my family inspires me."
Perez draws not only people, but also the things around her. She often draws characters from games and movies as well. She draws a lot of Pokémon and characters from Disney movies, because it's fun and she likes those characters A character she has drawn before was Prince Naveen from The Princess and the Frog.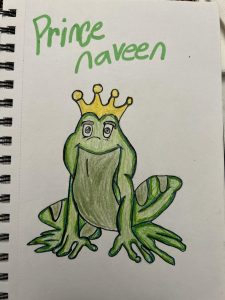 People all have long tiring days and want a way to relax. When Perez was asked why she likes to draw, she said, "I like drawing because it's like a therapy." This is her way to relax and express herself. Drawing is a hobby that she can grow in and add color to, which is also calming to her.
At Santa Rosa, Perez is in the Arts and Technology pathway which is helping her improve and gain more artistic skills. She chose this pathway because she loves art and it could potentially help her to pursue her dream of getting an art job. She's hoping to gain some more knowledge about designing art online, from this pathway. Not only that, but she is also taking art as one of her electives to strengthen her drawing skills even more.
After she was asked, "How do you think these art skills could help you?" Perez replied, "I could use my art skills when I am older."
She believes that these abilities may help her in the future by possibly getting an art-related job, like an animator.
Perez says it this way, "These skills can help me by using it for a job because I want to be an animator when I grow up. Specifically an anime animator." She's considering using these art skills for animation work when she's older.
It is fun to find more information about one another's interests, especially speaking to Yahaira Perez about her favorite art medium, her inspiration, why she draws, and her future in art. What do you love doing to relax? How do you spend your free time? Ask someone about what their hobbies are and you might get inspired.