After reaching an end on September 27th, the Hollywood Writers Strike is finally over. From coming to an agreement after a long five-month strike, the writer's have won in the fight. But, while it may seem of overall triumph, the long strike has already caused many setbacks and possibly even more to come in the near future.
The writer's have received over a two million dollar increase for their hard work annually, and their salary is going to continue to increase over the next few years. However, the film industry received the opposite and negative side of things. People believe that they will have lost around three billion dollars from the lack of movies on both streaming services and theaters in the later years. But what exactly was the reasoning behind the strike in the first place?
A freshman student, Zoe Castilleja had explained that writers needed fair pay. They were getting an unfair amount. Castilleja said, "Money is a serious thing, that's their job. It's how they get their income, so without the proper income that they would need to survive, it's just not right."
Once deciding that they were getting an unfair pay, the writer's of movies and all other films decided to go on strike in April, which has now ended in their favor. However, from the lack of writing and scripts, actors could no longer perform their roles and realized that they were on the writer's side and so decided to help and create their own strike as well. Because of this, all movies and tv show production had to stop in production entirely.
Jesus Flores, a grip worker in the filming industry had his own take on the matter. Flores says, "There was no work, every studio shut down. Nobody was filming. The only productions were music videos and commercials because singers write their lyrics and commercials don't follow the WGA." (Writer's Guild of America).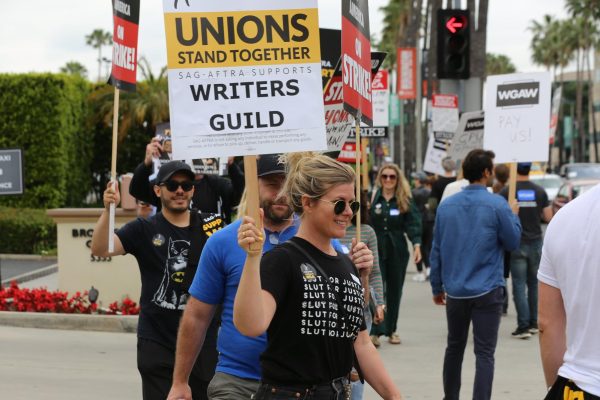 From the strike dragging on for so long, movies have been falling behind. As of now, theaters are still finding movies to show, but with none being produced at the moment, later years might not be so promising.
Flores had explained, "Setbacks to crew members to the entire film industry. People who rent gear, and equipment. It affected everybody." Castilleja had also agreed, saying,"I feel there won't be many movies coming out so then people are going to be upset.
Although there are many setbacks from this decision, people still believe that it was a reasonably sound and correct choice for the writer's division to make.
Flores had agreed entirely with the writers decision, he said"I believe that the writers deserve more money, because of the constant changes of scripts."
While there has been a long pause in movie activity, we may not need to fear. Movies and filming are beginning once again to bring the entertainment that everyone enjoys. With actors and writers coming back once more, movies and filming are starting back up to create new entertainment for viewers to see.
Glad to be going back to work, Flores explained how people are trying to gain back the time that they had lost. Flores said, "A lot of production companies will try to regain the loss of time by working more and more overtime and over the weekends. Until the next negotiation, we can only wait to see what happens then."