Many people today argue that teenagers in today's world have a lack of love for books and the entire idea of reading for fun or knowledge.
In reality many students of the Santa Rosa Academy high school student body have noted reading for enjoyment and enjoy getting to read for the different types of stories and concepts that novels can offer. With this, reading is a regular pastime when sports or other activities are finished for the day.
"I read like four books a week, that's incredibly difficult" Aria Worthington said when asked what her favorite book is.
Some students read consistently while others swear that reading is only something that has to be forced in school. The amount of young people reading is a bigger population than many think with large social media platforms having their own hashtags for their book lovers one being Tik Tok "#booktok" which allows many people to give summary and suggestions to very popular books.
To help with this, Ms. Cairns and Mrs. Mays asked their students to vote on which book is best within their own opinion. With 53 participants with the SRA high school classes, the top ten book choices for high school students within our campus came out to be, The Holy Bible, The Great Gatsby, Pride and Prejudice, Better Than The Movies, It Ends With Us, Six of Crows, To All The Boys I've Loved Before, Harry Potter and The Goblet of Fire, 1984, and Lord of the Flies.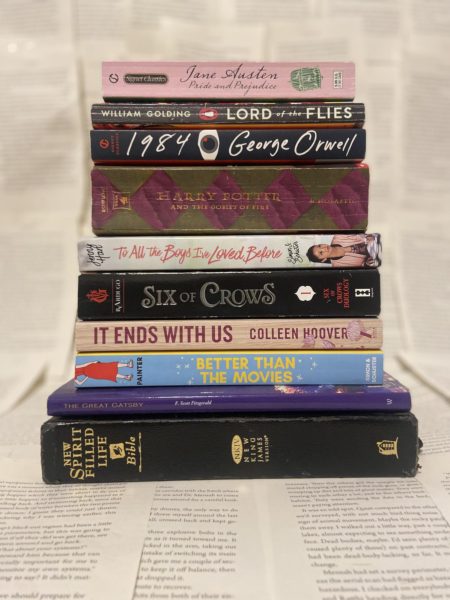 Through a poll put on The Lasso's website, it was determined that The Great Gatsby and Lord of the Flies were the most liked reading materials in the high school English classes, quickly followed by Romeo and Juliet.
Reading isn't just a forced curriculum within English classes that students dread but also something that broadens imagination and opens the window to many different worlds that people like to envision.
The top ten books aren't just popular within our school but also books read throughout the country in and outside of the classroom.